KingDoom
KingDoom: King's Defence Fleet
---

Project Progress Estimation
It is hard to define how much percents of a project have been done. That's why you won't see any % of progress. The illustration below shows only the project's progress estimation: The triangle on the time line indicates the estimated progress. Above the triangle you can see different round boxes. Each box represents a different phase of the project. The circle denotes the project's end: Time at which the release version will be available. Before that, some testing versions will be available.
Project Presentation
The project that is now currently being developed is named KingDoom: King's Defence Fleet. It used to be called Mortar-Terror.
KingDoom?! What is it?
KingDoom - King's Defence Fleet is my new game project. It will be a real-time tactical game (Real-time Tactics). It's similar to the real-time strategy games by without the economy management. The game will be in full 3D, multiplayers (+2 players).
The first testing versions of the game should appear during spring 2007.
We want more details!
It has been now years that I'm think and re-thinking about the game rules (what is called Game Mechanic in the game industry). The rules have been completely modified over the time but I still have only a vague idea of the resulting game (the Game Play). The ideas may not always be radically original however I want to keep most of them somewhat more secret until the game first game release.
To make things simple: Yes, I wrote a documentation of the game (Game Design Document) of about 40 pages. No, I won't make it public now.
So what do we do?
If you like to participate, start by stating what you can do and what you've already done. If you have chaotic ideas I'm also interested. More details should appear in the future.
You can also visit the KingDoom section of the forum.
---
Below you will find the info of the original project (named Mortar-Terror) started years ago:
Screenshot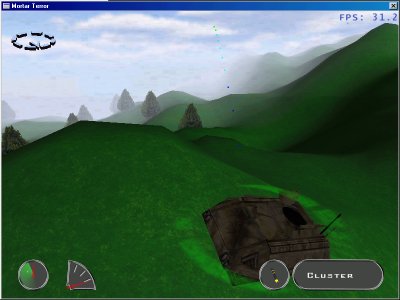 Some models of the game
---
---